Japanese and Chinese Seal Engraving – Tenkoku, November 2021
This event has passed
Enjoy the process of creating and stamping with your very own hanko seal, with eraser and craft knife, or stones and cutter
Date and Time
Mon 1 Nov 2021
7.00pm - 8.30pm GMT
Location
Online via Zoom
£25 (Eventbrite ticket link)
Age Suitability
16+
About
1st November 2021
U.K. time: 7.00pm – 8.30pm (GMT)
Los Angeles time: 12.00pm
New York time: 3.00pm
You can join simply with pencil and paper, to start by making your stamp design. When you want to start carving, you can use an eraser and craft knife, or traditional stone and cutter.
Carve your very own Japanese hanko stamp to make your inei impression, learn about the different stages in the Tenkoku 篆刻 process and the tools used.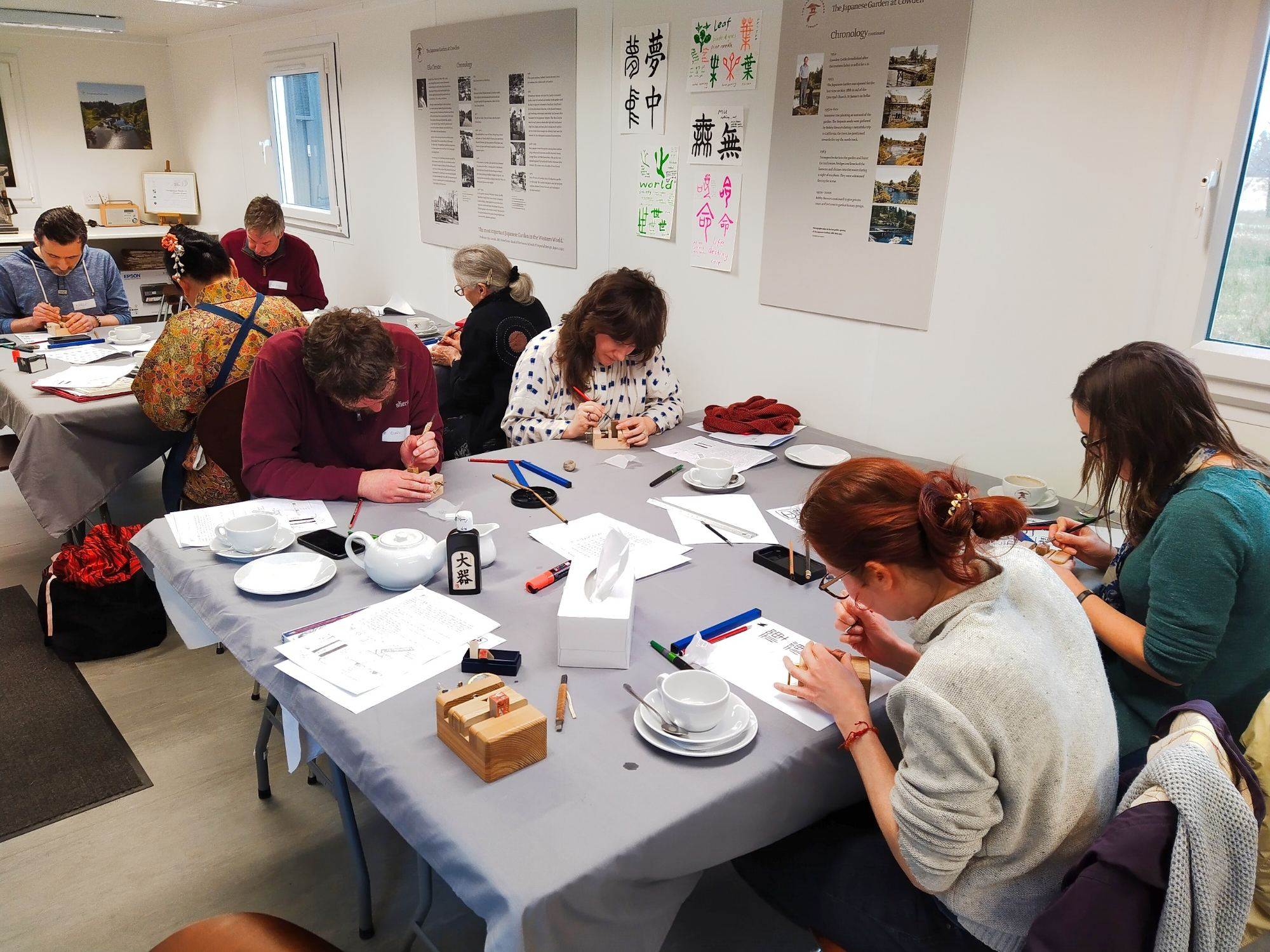 Enjoy the meditative and caring process of cutting the stone or eraser to make the hanko 判子, then inking with the deep red pigment and pressing on paper (such as delicate Japanese washi paper or cartridge paper) to create your own personal inei 印影 impression. Immerse yourself in the moment and notice the lovely sense of touch of the stamp in your hands and the lively lines and the deep spaces of the carving.
Blair will help you create a design to carve, of kanji characters related to your name or a friend's name or your interest (in Kanji, or Japanese Katakana, or English). He will demonstrate how to work with the traditional tools and materials from Japan such as the wooden clamps, smooth stones and carving cutters, as well as the much more accessible alternatives readily available such as using an eraser – called the Keshigomu method.
We will learn about the inspiring old Tensho style of characters that came from China to Japan, and the two main types of red and white letter seals, including which sizes and how to use them, opening up a helpful and fascinating cultural insight.
No previous experience is needed. You don't need to have traditional materials, you can take part in the full process with eraser, craft knife, paper, pencil and ink pad. We will email you about what materials you can use in advance of the event. If you would like to find out more about previous Tenkoku events please go to the Tenkoku pages. This friendly group meets regularly to give you the time needed to create your stamps and seal impression, depending on your stamp design, your working speed and materials.
Booking is through Eventbrite, after you book we will email you the Zoom link and details for the group. Sorry but tickets are non-refundable. Feel free to come early for a cuppa and settle in.